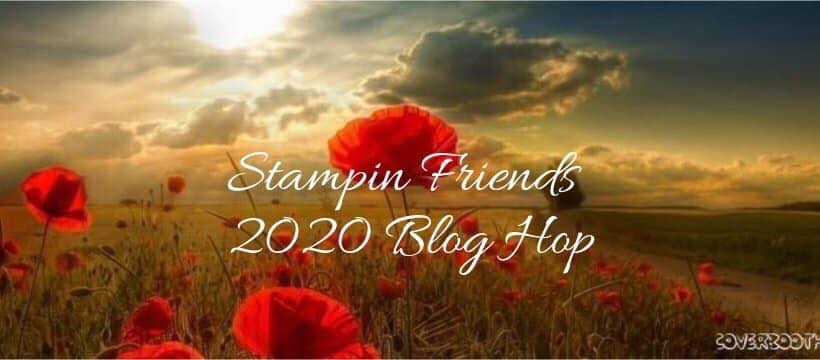 First of all before I start: Please click the dropdown box on the top right to translate to English.
Hallo ihr Lieben,
herzlich Willkommen zu unserem Stampin' Friends Blog Hop in diesem Monat. Heute dreht sich alles um unsere Favoriten und ihr dürft gespannt sein, welch kunterbunte Mischung wir für euch vorbereitet haben. Vielleicht kommt ihr ja gerade von Stephanie und habt ihr tolles Projekt bestaunt.
Ich hab mich als Favorit für meine Lieblingsfarbe entschieden und ein Geburtstagsset in Lilatönen gewerkelt. Dabei kamen Flieder, Heideblüte und Amethyst zum Einsatz. Das Set besteht aus einer Karte und einer dazu passenden Schokoziehverpackung, welches ich für meine Freundin gewerkelt habe.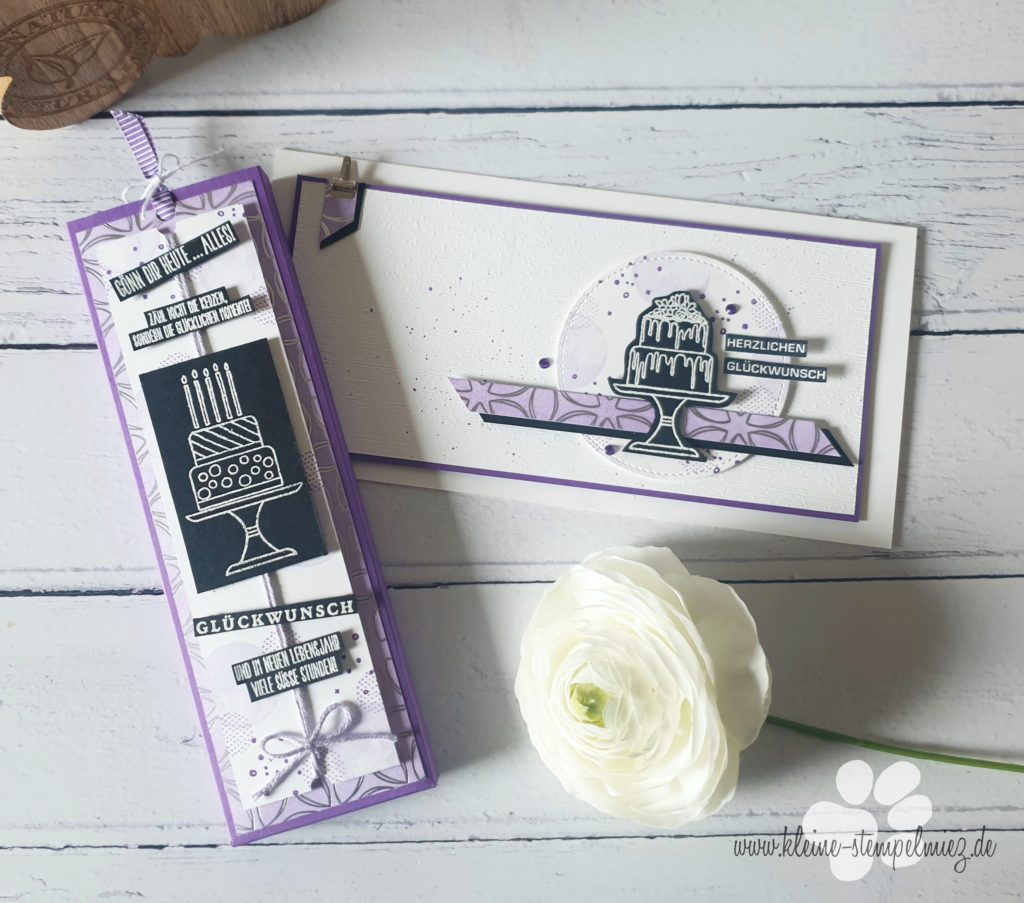 Zunächst möchte ich euch die Karte vorstellen, die ich im DIN lang Format gehalten habe. Die Grundkarte besteht aus Flüsterweißkarton. Darauf ist eine Mattung Amethyst und eine geprägte Mattung Flüsterweiß gelegt.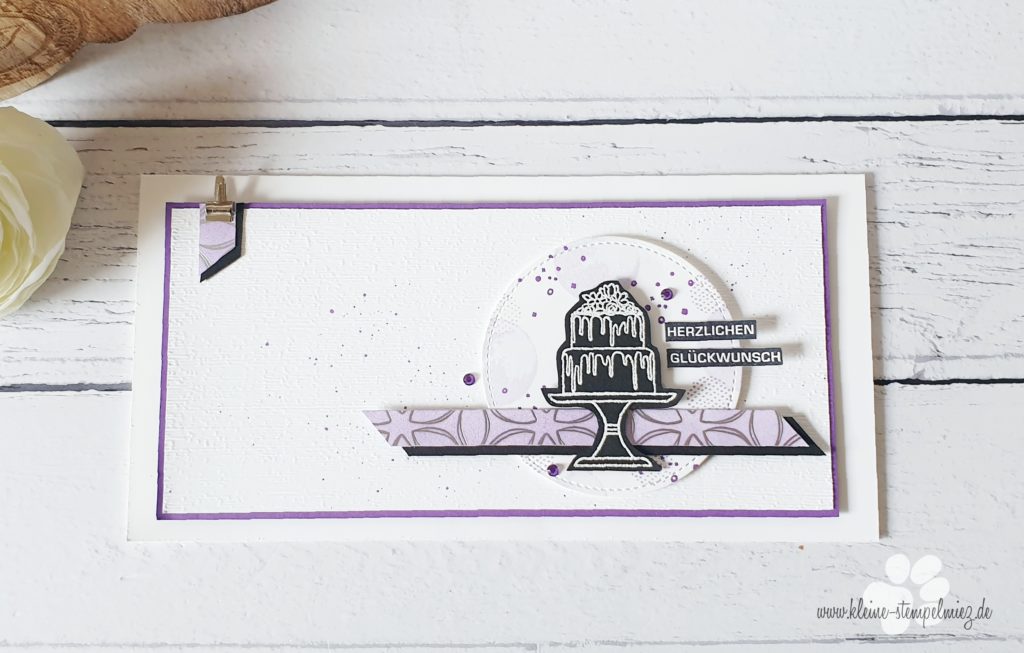 Links kam ein ausgestanzter Stickkreis hin, den ich mit einem älteren Stempelset bestempelt habe. Darauf habe ich ein Stück eingefärbtes Designerpapier "Blütenglanz" und ein Stück schwarzen Cardstock gelegt. Oben drauf kam eine Torte aus dem Set "Kuchen ist die Antwort", welche ich in weiß embossed habe. Der Glückwunsch stammt aus dem Set "Alles im Block". Zum Schluss habe ich ein paar Amethyst Strasssteine angebracht.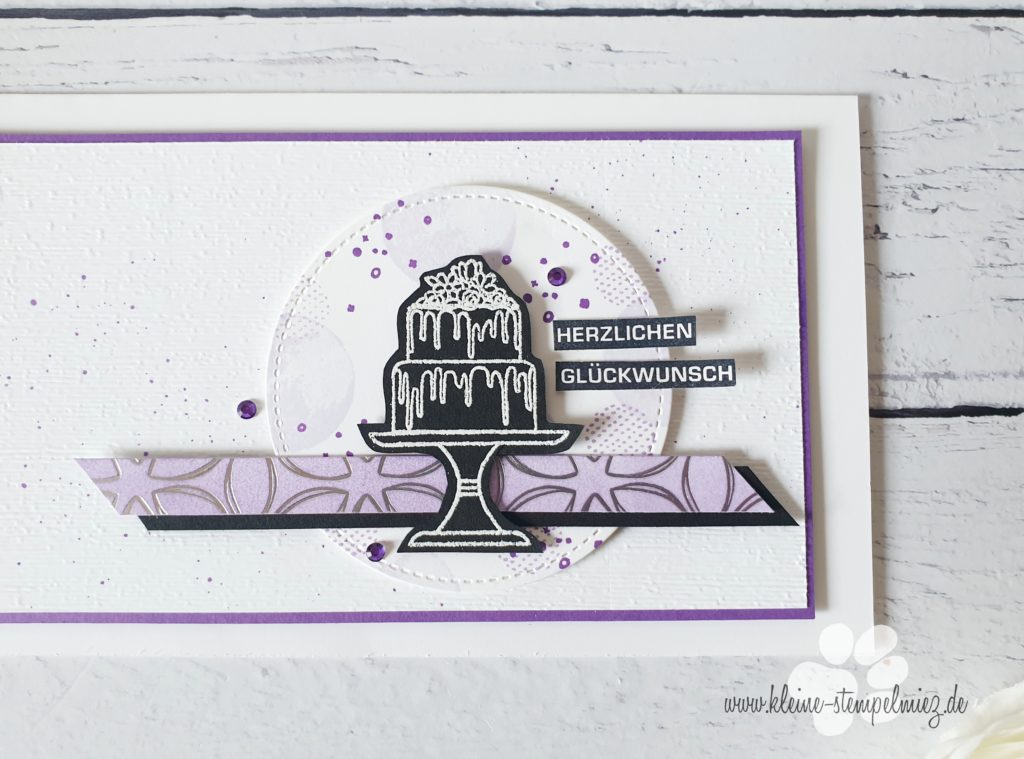 Oben links habe ich die gleichen Papierstreifen noch einmal verwendet und sie mit einer Mini Buchklammer befestigt.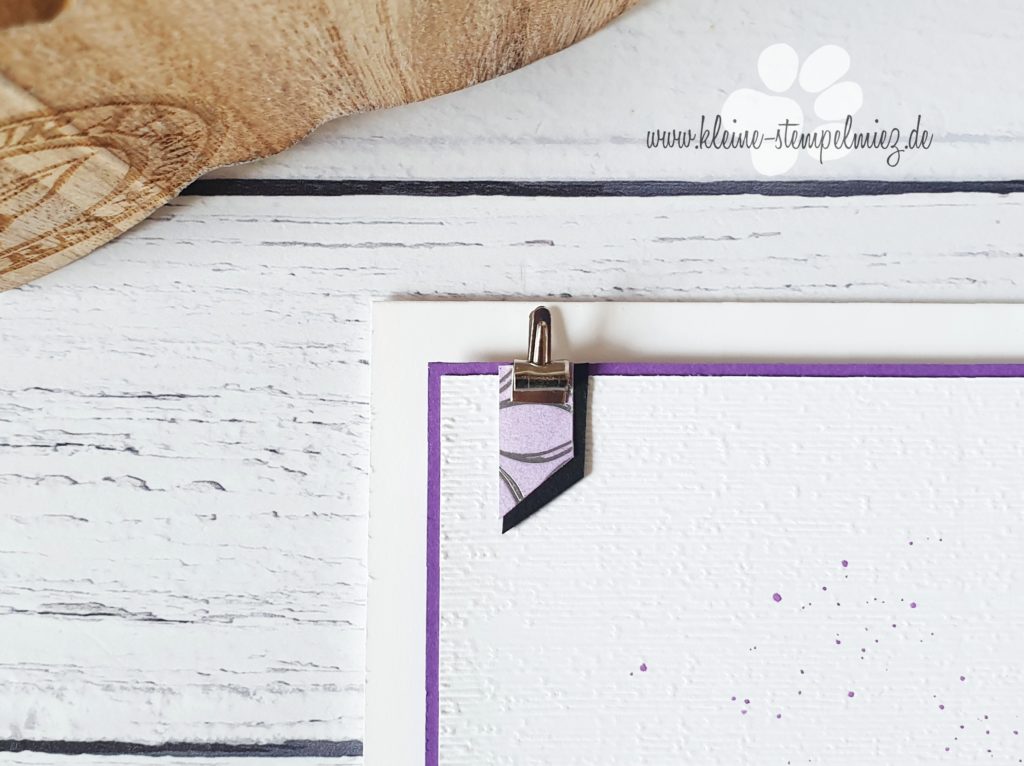 Die Schokoziehverpackung ist in Amethyst Cardstock gehalten. Oben drauf kam eine Mattung eingefärbtes Designerpapier "Blütenglanz" und anschließend eine Mattung Flüsterweiß, die ich mit dem gleichen Stempelset wie beim Stickkreis bestempelt habe. Drum herum habe ich eine Kordel in Flieder gewickelt. Anschließend kamen verschiedene Geburtstagssprüche und eine Torte auf die Verpackung.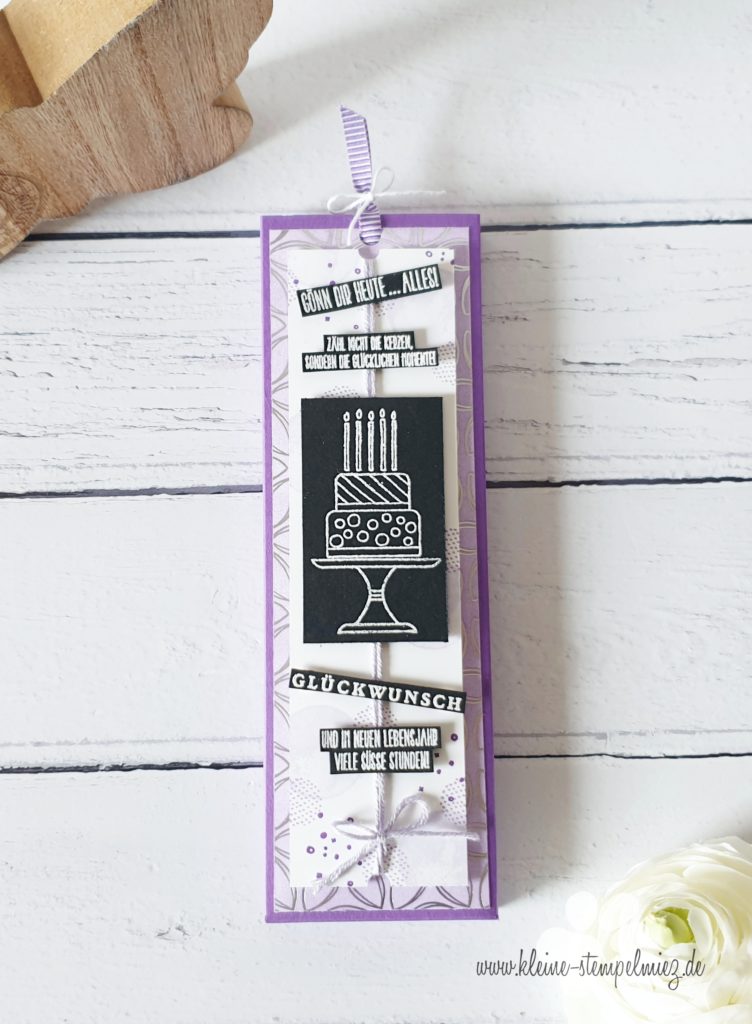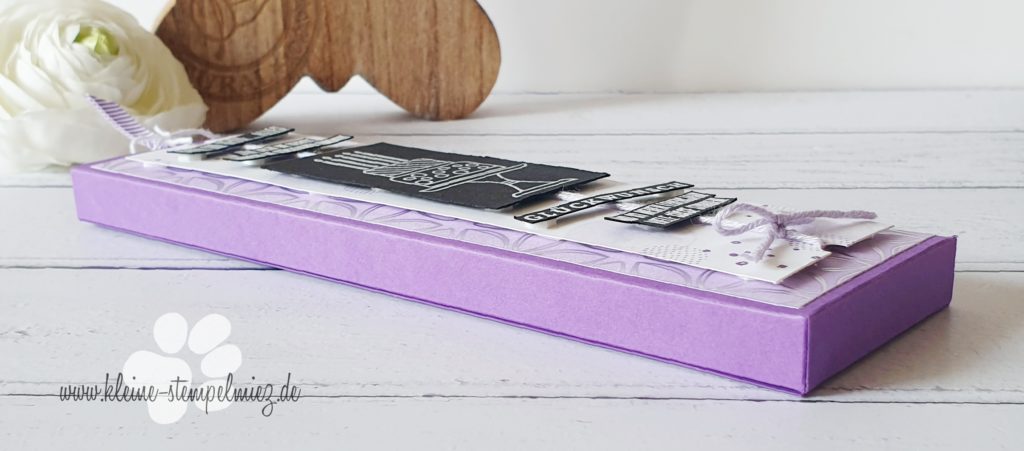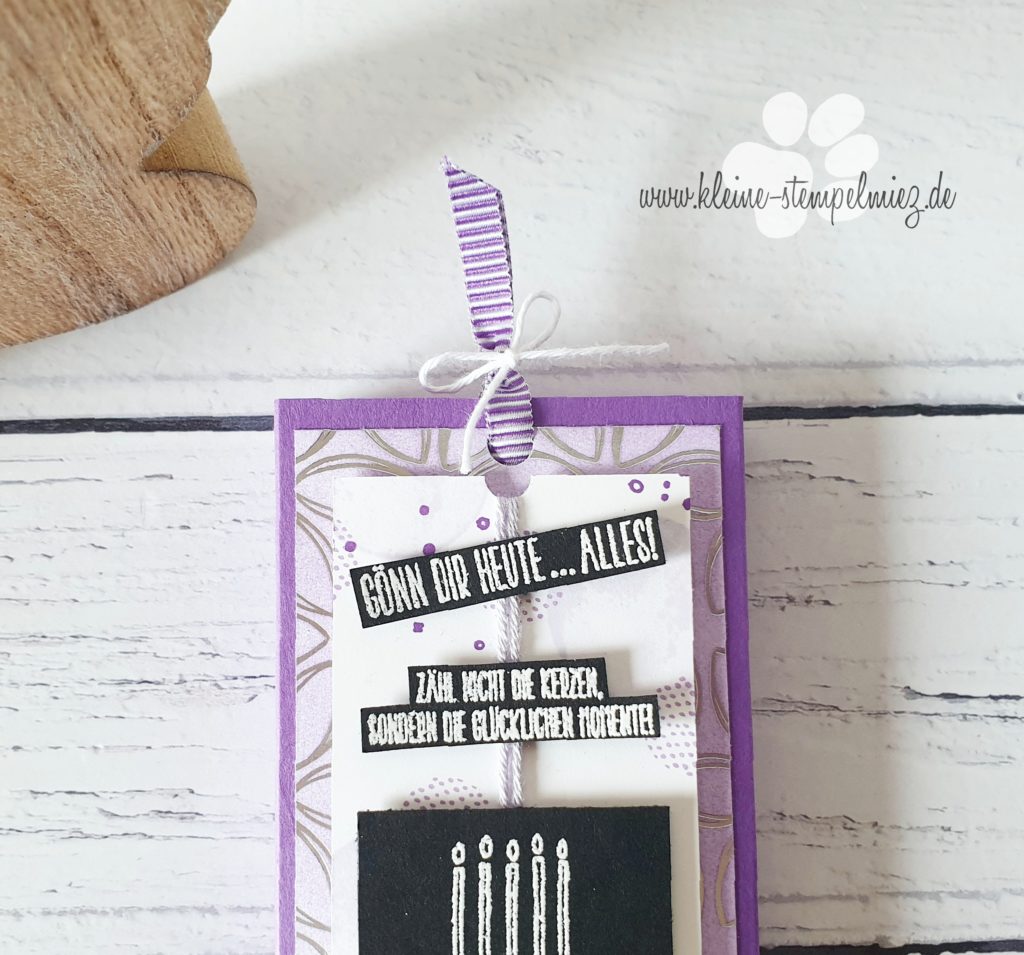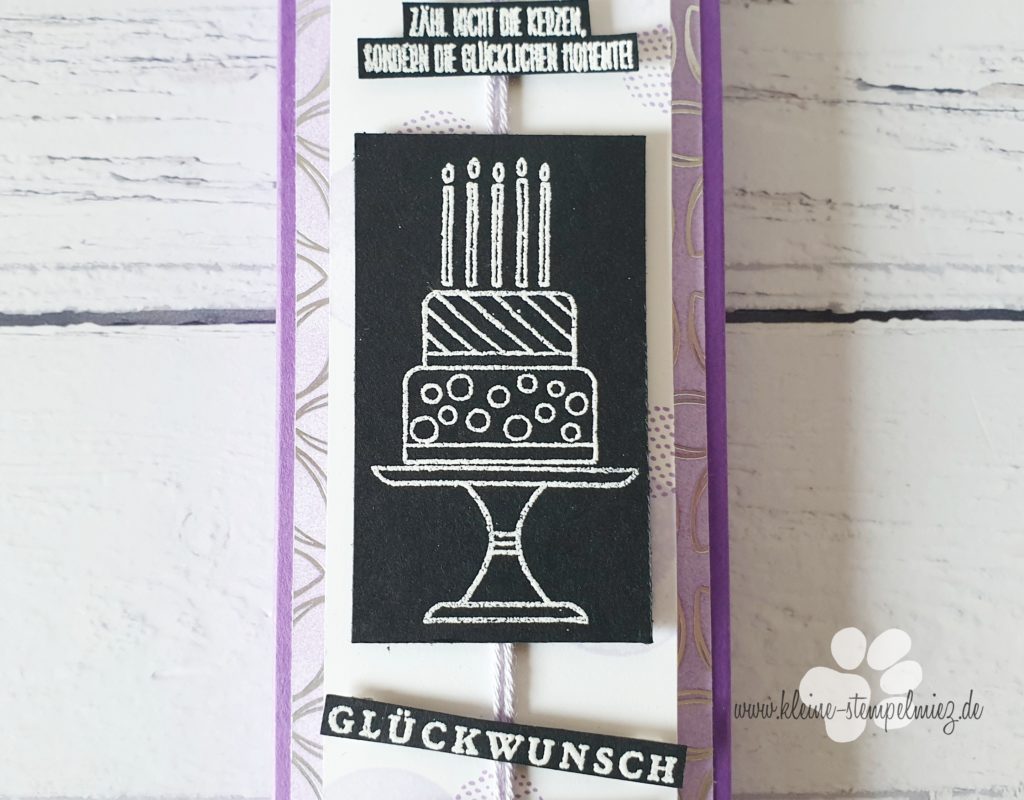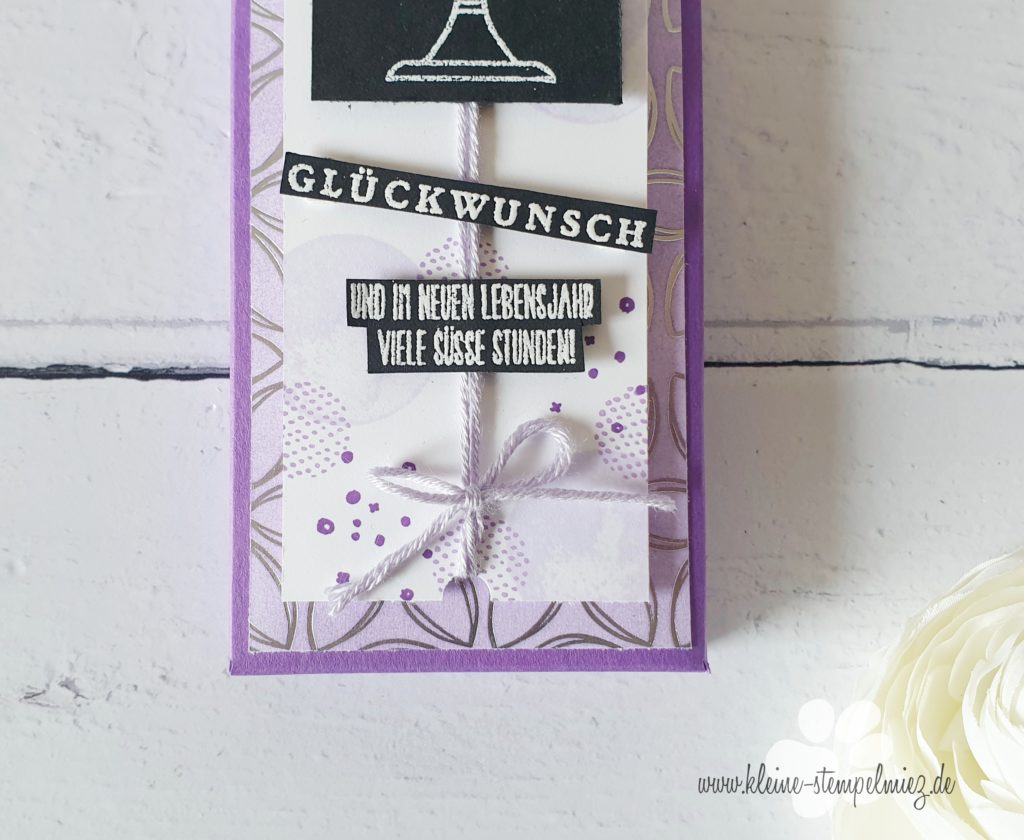 Mit Hilfe des Bandes in Amethyst kann die Schokolade einfach herausgezogen werden. Diese ist passend zu meinen gewählten Farben auch in Lila gehalten.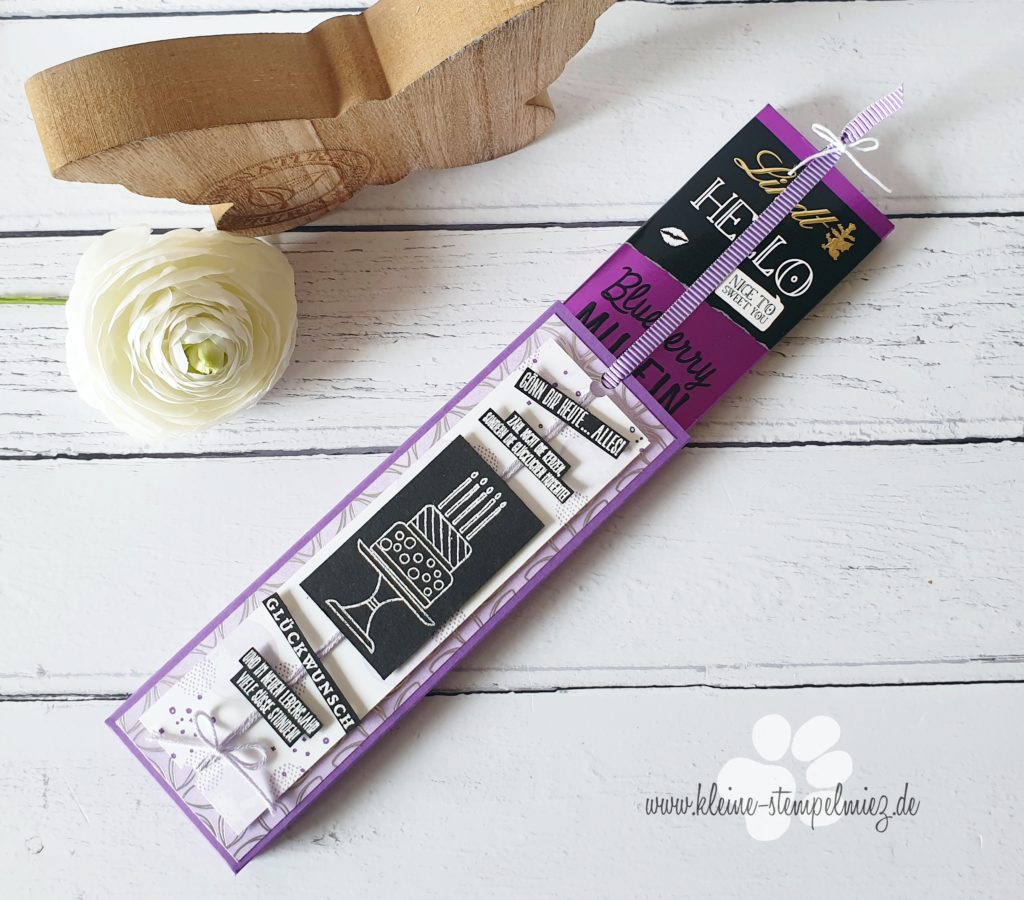 Ich hoffe, euch hat mein Geburtstagsset gefallen. Weiter geht es im Blog Hop mit Tiziana. Ich wünsch euch ganz viel Spaß beim Weiterhüpfen!!
Rachael Rife- https://rachthestamper.com/favorites-blog-hop/
Jo Blackman (UK) – http://www.joblackman.com/2020/02/sf-2020-february-blog-hop-favourites.html
Jean Bolen Beaulieu –https://danantmom.blogspot.com/2020/02/welcome-to-our-february-stampin-friends.html
Stephanie Jandrow – https://stampinandscrappinwithsteph.weebly.com/home/stampin-friends-favorites-blog-hop
Katja Ettig – hier seid ihr gerade :-)
Tiziana Milano – https://stampinwtiziana.blogspot.com/2020/02/welcome-to-stampin-friends-blog-hop.html
Kim Lamos- https://www.pinkzebrapapercreations.com/2020/02/stampin-friends-blog-hop-favorite-things.html
Cheryl Taylor (UK) – http://cheryldiana.co.uk/stampin-friends-february-2020-blog-hop
Heidi Collins – https://on-y-go-stamping.weebly.com/home/my-favorite-things
Barbara Welch – https://creativestampinspot.blogspot.com/2020/02/stampin-friends-favorites-blog-hop.html
Eure Katja
Verwendete Stampin' Up! Produkte: