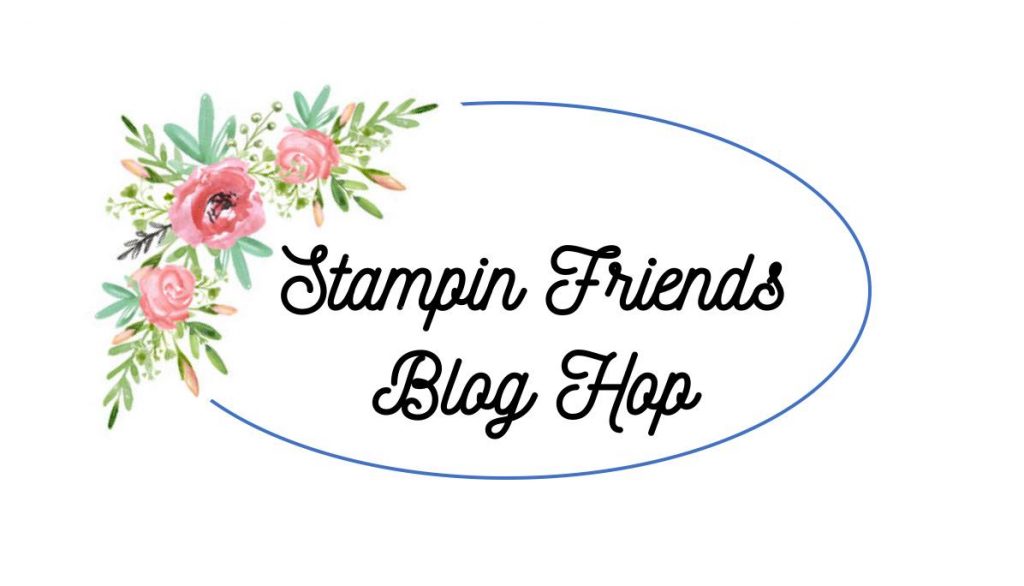 First of all before I start: Please click the dropdown box on the top right to translate to English.
Hallo ihr Lieben,
und herzlich Willkommen zu einem neuen Stampin' Friends Blog Hop, der heute unter dem Motto "No Rules" steht. Das heißt, es gibt keine Regeln und wir können alle selbst ein Thema wählen, zu dem wir etwas zeigen möchten.
Ich habe mich für ein fröhlich fruchtiges Projekt entschieden, das ich zum Geburtstag verschenken möchte. Die Karte und auch die das kleine Einweckglas sind mit den Sets "Gute-Laune-Korb", "Glasklare Grüße" und "Party Hat" entstanden. Farblich habe ich mich für Limette, Sommerbeere und Aubergine entschieden. Dabei habe ich mich an den Beeren von Haribo orientiert, die ich in die Weckglasverpackung gefüllt habe.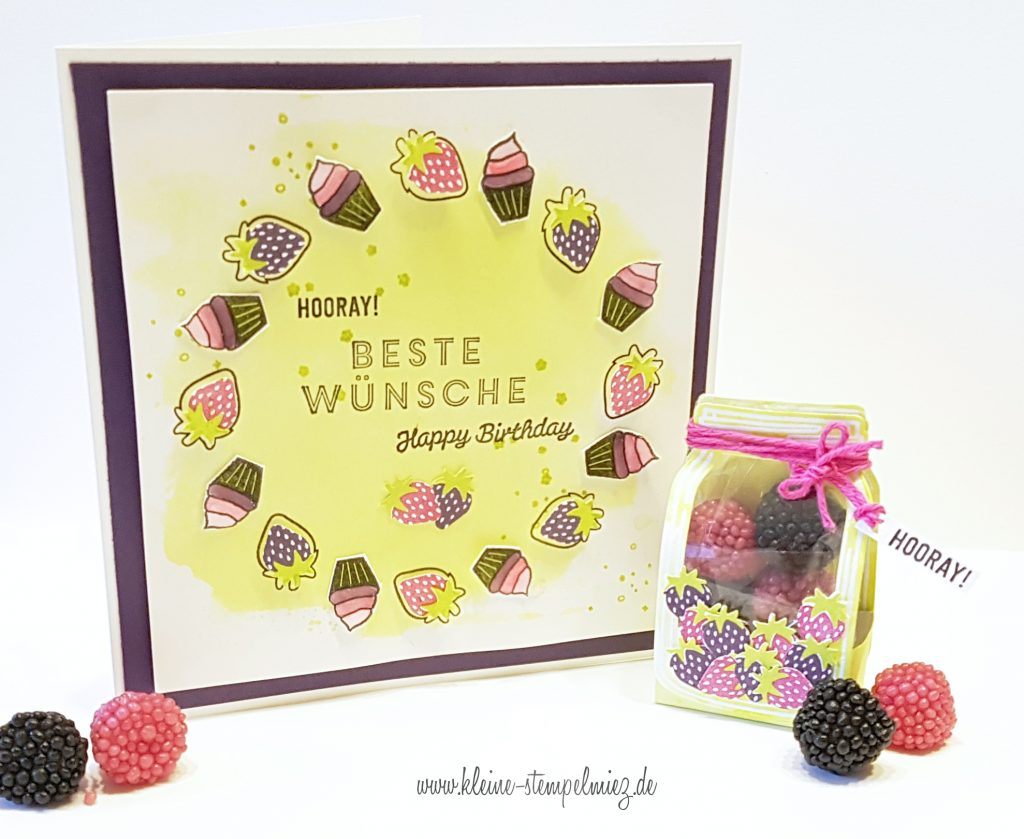 Die Karte ist mit dem Stamparatus entstanden. Der Hintergrund ist in Aquarelltechnik in Limette auf Aquarellpapier gewischt. Ich habe dafür zunächst die kleinen Beerenrahmen mit einem Wreath Builder aufgestempelt und anschließend die Cupcakes aus dem Set "Party Hat", sowie die Beeren extra gestempelt, gestanzt und mit Dimensionals in den Kreis aufgebracht. Den Geburtstagsgruß habe ich aus dem Set "Vielseitige Grüße", das ihr nach wie vor gratis ab einem Bestellwert von 60€ bis 31. März zu eurer Bestellung dazu bekommt. Darum habe ich die beiden Sprüche aus dem Set "Party Hat" platziert und unten drunter noch zwei Beeren aufgeklebt.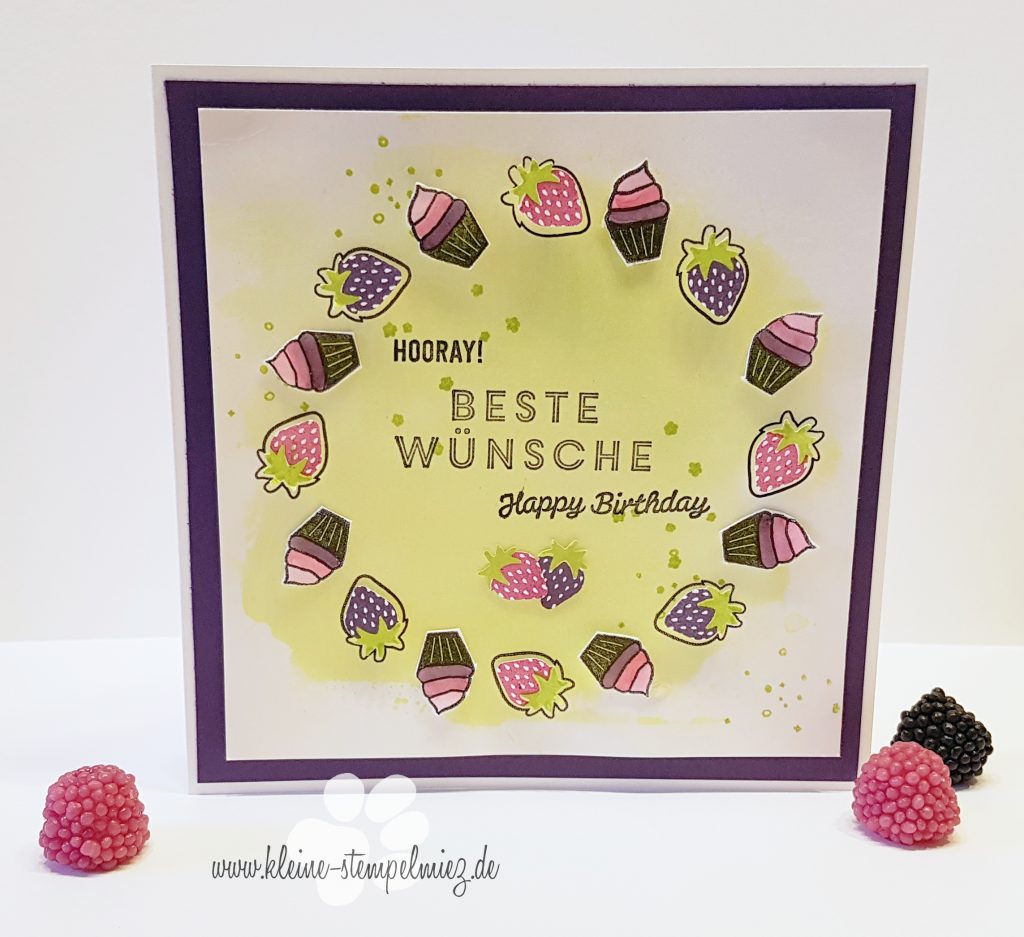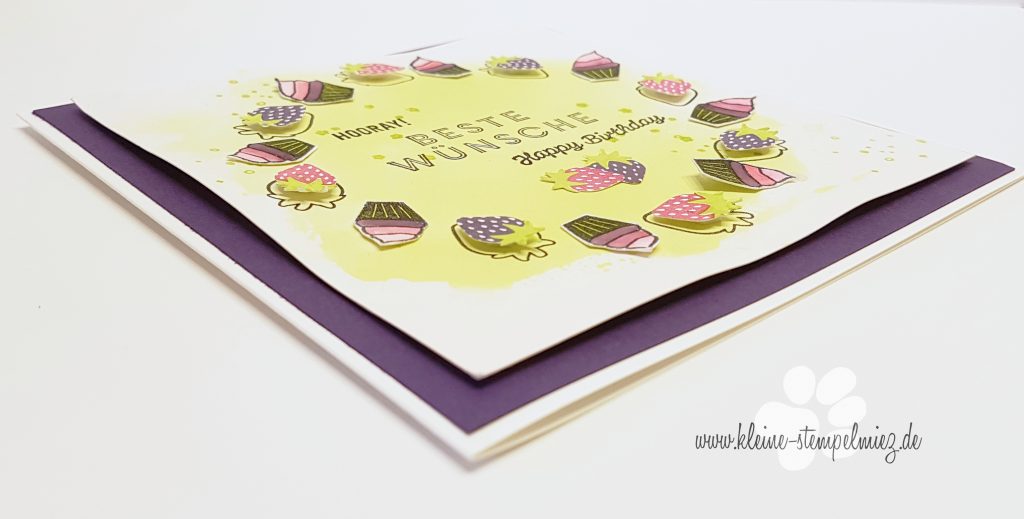 Die Verpackung wurde zunächst aus Aquarellpapier gefertigt, welches ich in Limette eingefärbt habe. Davor und dahinter habe ich mit dem Stempelset und den Framelits "Glasklare Grüße" ein Einweckglas geklebt. Das Weckglas vorn habe ich zur Hälfte ausgestanzt und mit Transparentpapier hinterlegt. Das hintere Glas blieb komplett.
Den unteren Rand des Glases habe ich abwechselnd mit Beeren in Sommerbeere und in Aubergine gefüllt. In die Verpackung kam ein Zellophantütchen gefüllt mit Fruchtgummibeeren von Haribo.
Zum Schluss habe ich oben an den Rand eine Kordel in Sommerbeere und einen kleinen Spruch aus dem Set "Party Hat" angebracht.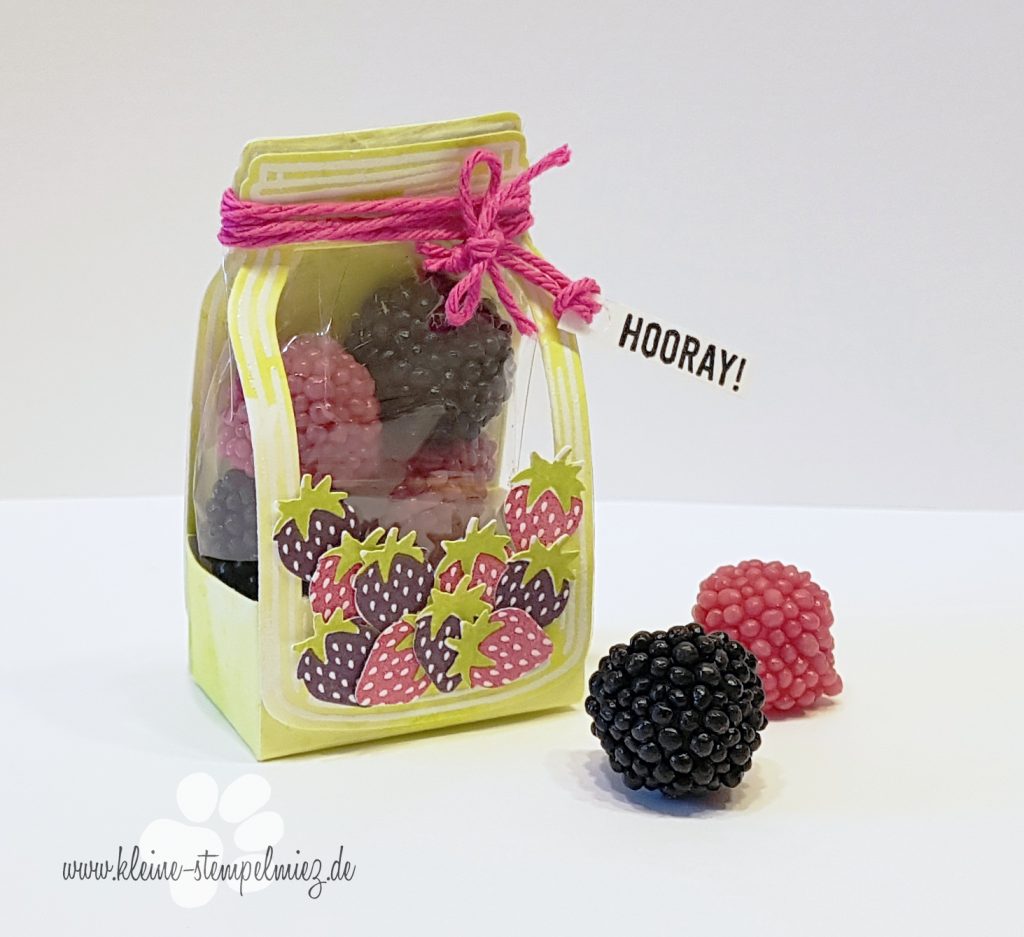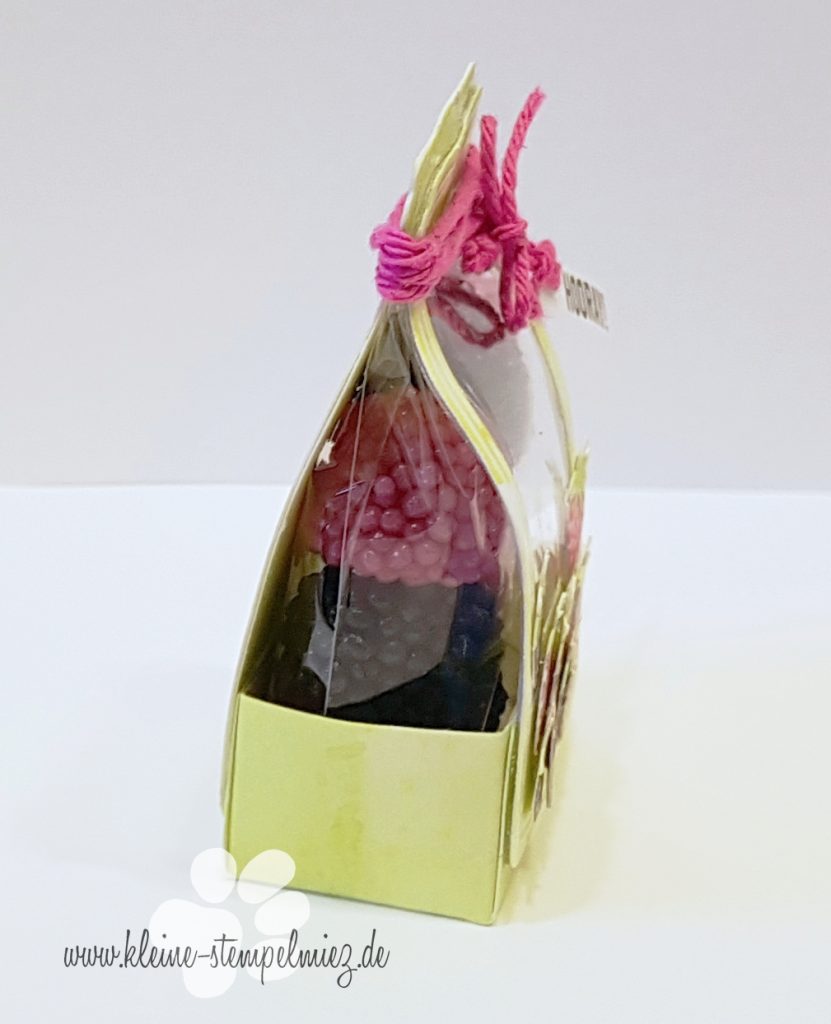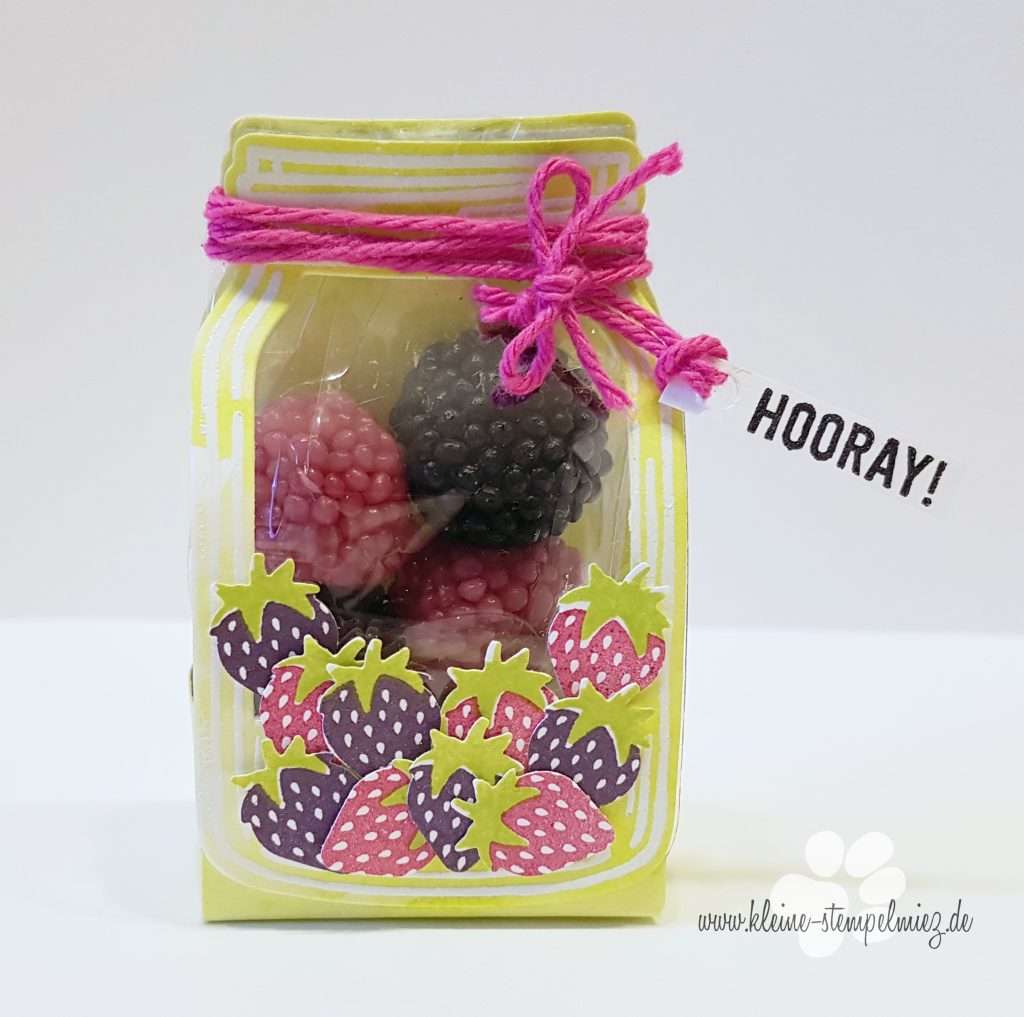 Damit war mein fruchtiges Geburtstagsduo komplett.
Nun möchte ich euch natürlich gern noch an meine Blog Hop Kollegen verweisen. Ich bin genauso gespannt, was sie zu diesem freien Thema gezaubert haben. Außerdem habe ich noch eine wahnsinnige Nachricht für euch! Denn wir verlosen unter allen, die unsere Beiträge bis zum 25. März kommentieren, am Ende des Monats einen nagelneuen Stamparatus!! Mit jedem Kommentar, den ihr auf den einzelnen Blögen abgebt, könnt ihr noch ein Los mehr sammeln. Markiert außerdem eure Kommentare mit dem Hashtag: #SFMARCHBLOGHOP. Das lohnt sich auf jeden Fall! Und schöne Inspirationen bekommt ihr natürlich auch noch mit dazu, wenn ihr die Beiträge anschaut. ;-)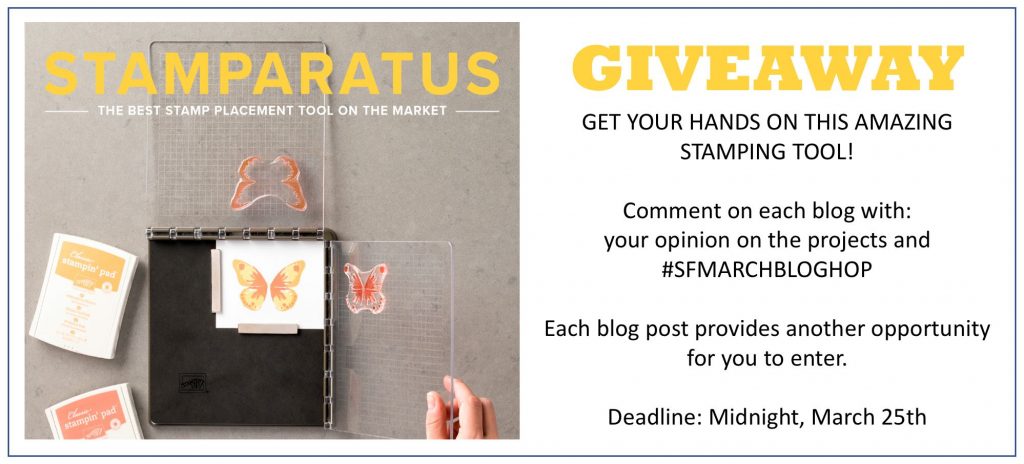 Hier habt ihr eine Übersicht von allen Teilnehmern und die dazu gehörigen Links.
Ich wünsche euch viel Spaß beim Weiterhüpfen und ganz viel Glück beim Gewinnspiel!!
Eure Katja
Verwendete Stampin' Up! Produkte: