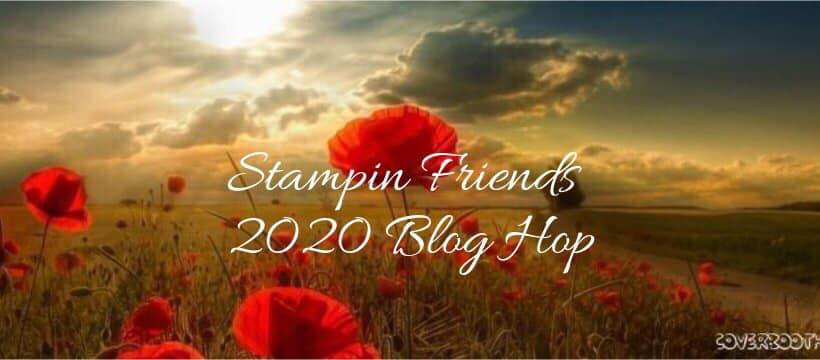 First of all before I start: Please click the dropdown box on the top right to translate to English.
Hallo ihr Lieben,
und herzlich Willkommen zu unserem Stampin' Friends Blog Hop in diesem Monat. Passend zur blühenden Natur draußen und zum bevorstehenden Mai, in dem der Muttertag das erste Highlight sein wird, dreht sich heute alles um Blumen und Mütter.
Bei Heidi habt ihr ja bereits ein wunderschönes Projekt entdecken können. Bei mir geht es zwar nicht direkt mit dem Muttertag weiter, aber ich möchte euch ein Werk zeigen, das ich für meine Mama gewerkelt habe. Sie hatte nämlich gestern Geburtstag und da wir in der jetzigen Situation leider das eigentlich Geschenk nicht kaufen konnten, haben wir einen Gutschein dafür in einer Explosionsbox verpackt, die ich mit ganz vielen Blümchen in den Farben Flieder, Rauchblau, Jade und Flüsterweiß gestaltet habe.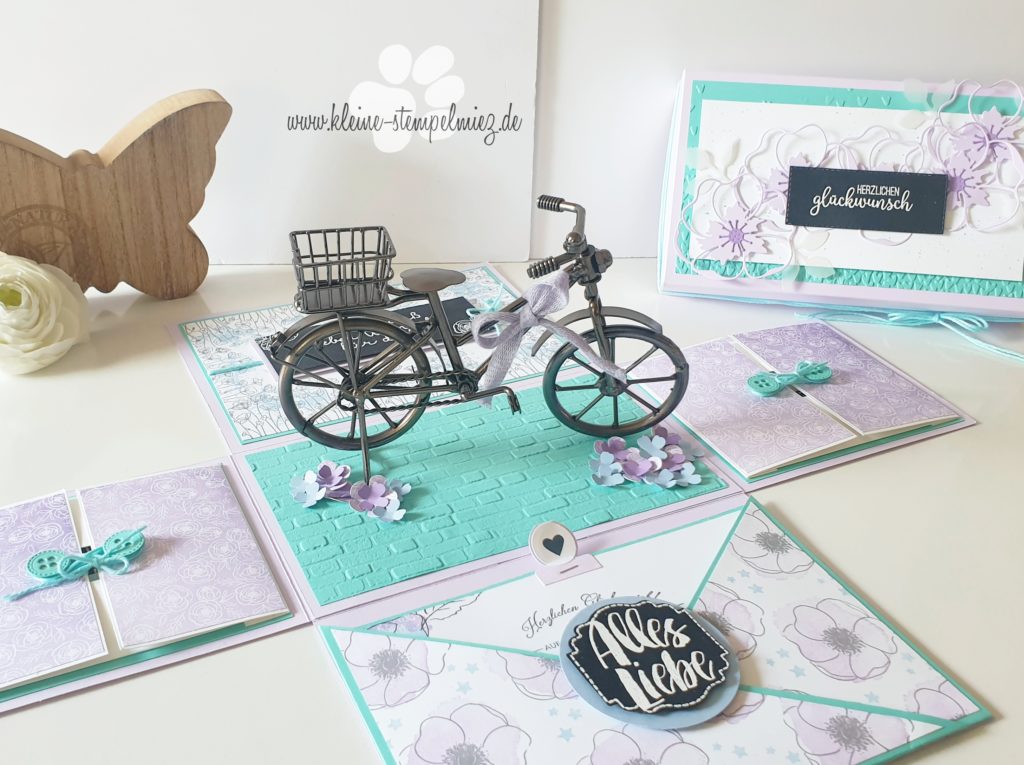 Die Grundbox wurde aus Flieder Cardstock gebaut. Außen habe ich sie mit bestempelten Flüsterweißkarton verziert. Hierfür habe ich das Stempelset "Painted Poppies" benutzt.
Der Deckel wurde ebenfalls aus Flieder Cardstock gebaut und oben mit ausgestanzten Mohnblüten und einem Geburtstagsgruß aus dem Set "Kunst mit Herz" verziert.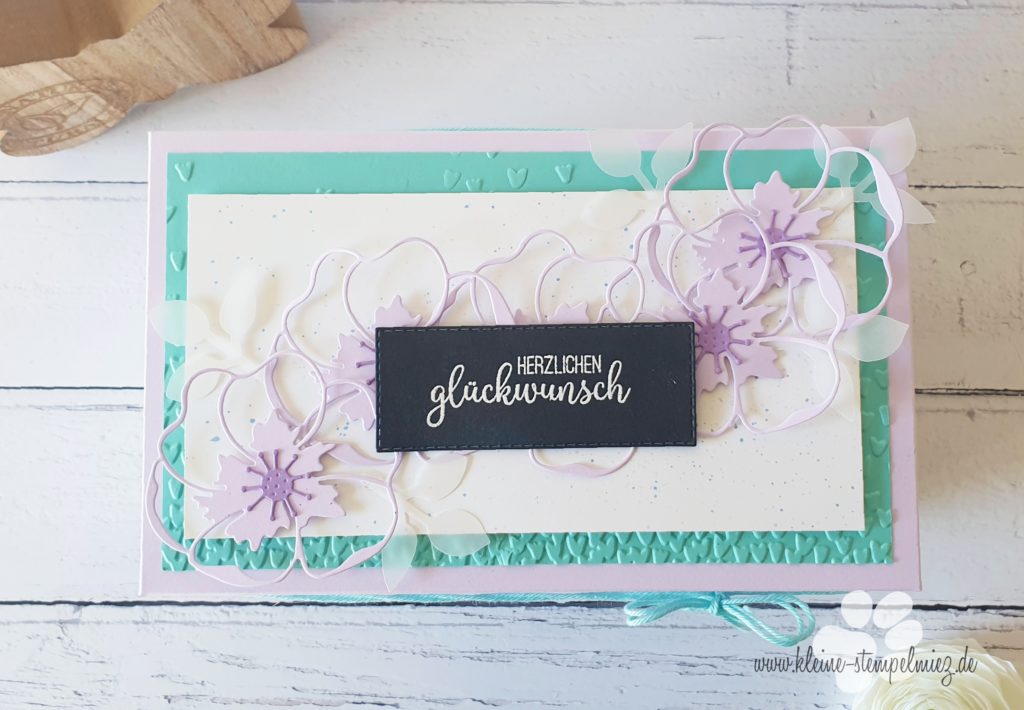 Innen drin befindet sich in der Mitte ein Metallfahrrad. Meine Mama fährt nämlich leidenschaftlich gern Fahrrad und bekommt nun ein E-Bike von uns. Das Rad habe ich rund herum mit Blümchen verziert.
Die linke und die rechte Seite sind mit verschlossenen Umschlägen verziert. Innen drin habe ich den Gutschein versteckt.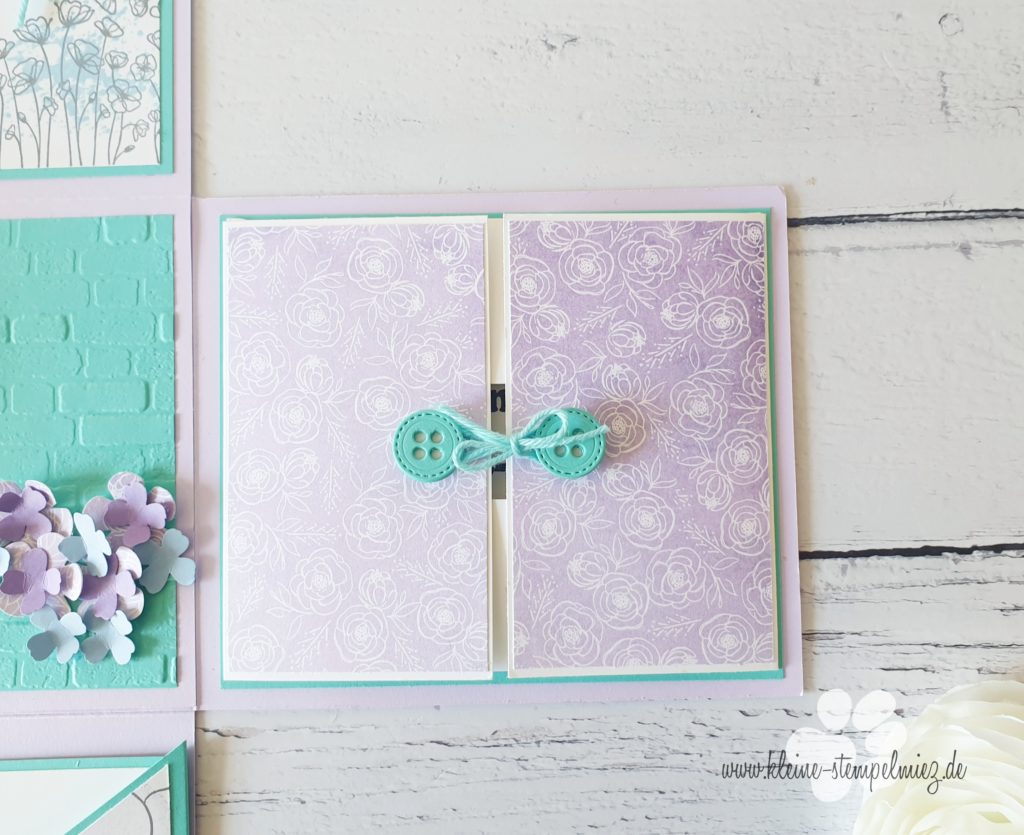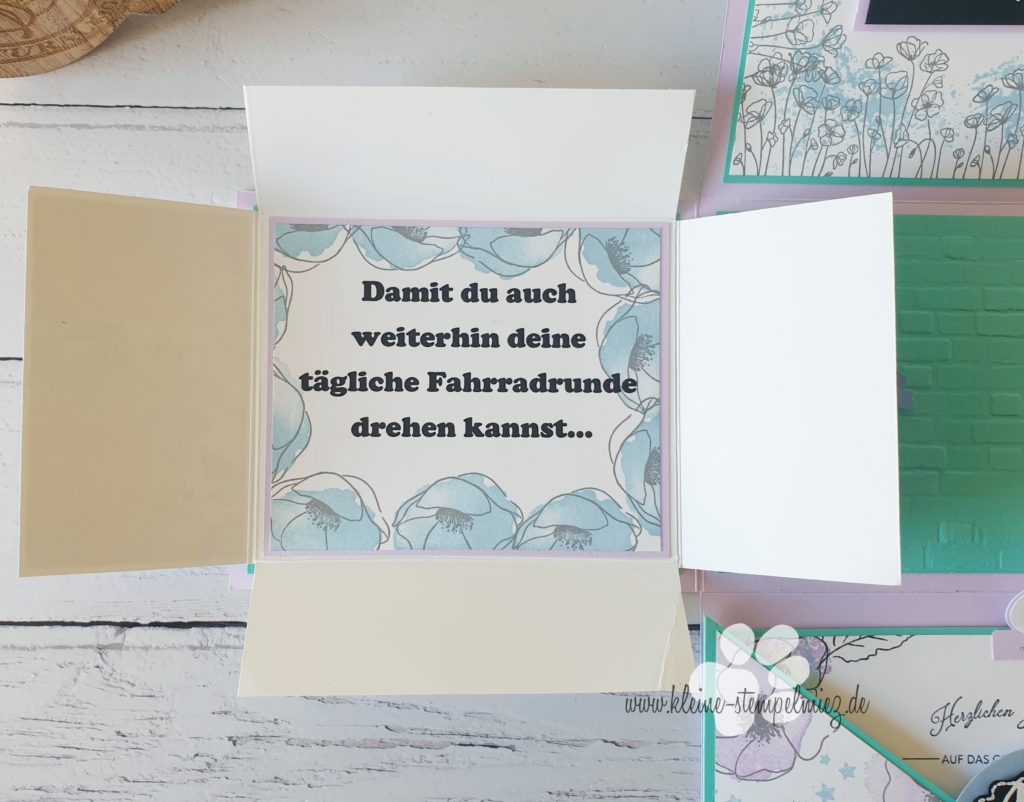 Oben habe ich mit Hilfe der Stempelsets "Painted Poppies" und "Strauß lieber Wünsche" einen Geburtstagsgruß gestaltet.
Unten habe ich ein Einsteckfach mit passender Grußkarte platziert.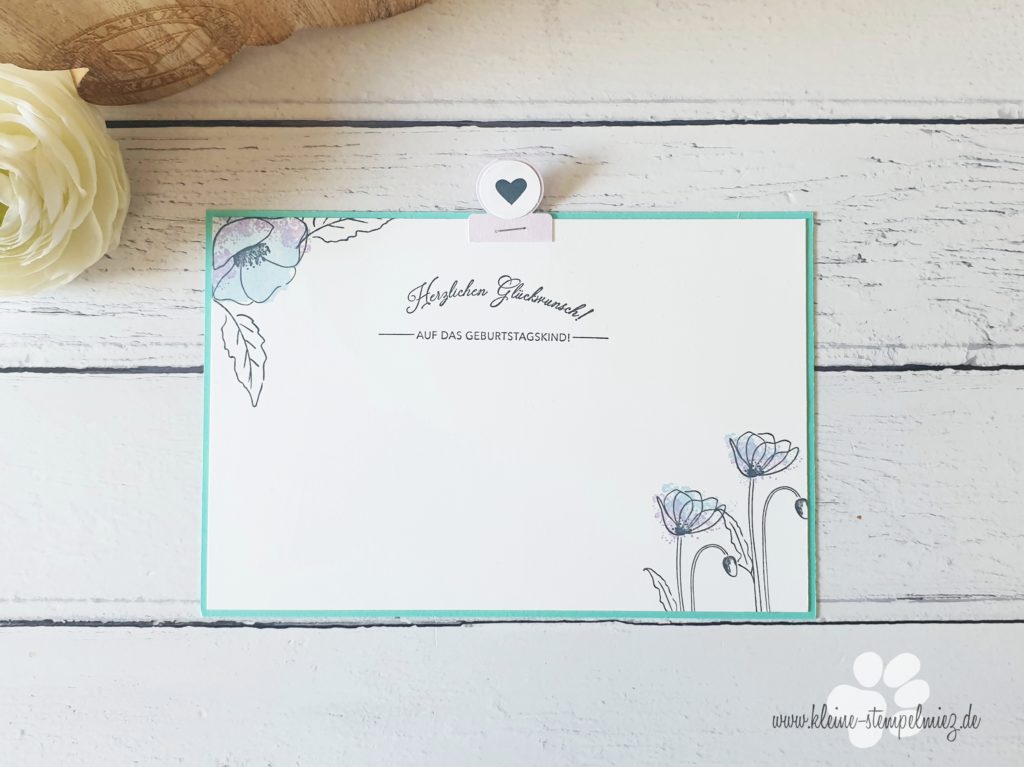 Ich hoffe, dass euch meine Explosionsbox gefallen hat. In unserer Blog Hop Runde geht es mit Rachael weiter. Ich wünsch euch ganz viel Spaß beim Weiterhüpfen!
Stephanie Jandrow – https://stampinandscrappinwithsteph.weebly.com/home/stampin-friends-blog-hop-all-about-flowers-and-moms
Jean Bolen Beaulieu – https://danantmom.blogspot.com/2020/04/april-2020-stampin-friends-blog-hop.html
Tiziana Milano – https://stampinwtiziana.blogspot.com/2020/04/stampin-friends-april-blog-hop-all.html
Heidi Collins – https://on-y-go-stamping.weebly.com/home/stampin-friends-blog-hop-flowers-and-mothers
Katja Ettig – hier seid ihr gerade :-)
Rachael Rife USA- https://rachthestamper.com/flowers-and-moms-blog-hop/
Maureen Rauchfuss USA – https://crazystampinglady.blogspot.com/2020/04/sf-2020-march-all-about-flowers-and.html
Barbara Welch – https://creativestampinspot.blogspot.com/2020/04/stampin-friends-all-about-flowers-and.html

Ich hoffe, dass es euch allen weiterhin gut geht und natürlich wünsche ich euch alles Gute und bleibt gesund!

Eure Katja

Verwendete Stampin' Up! Produkte: