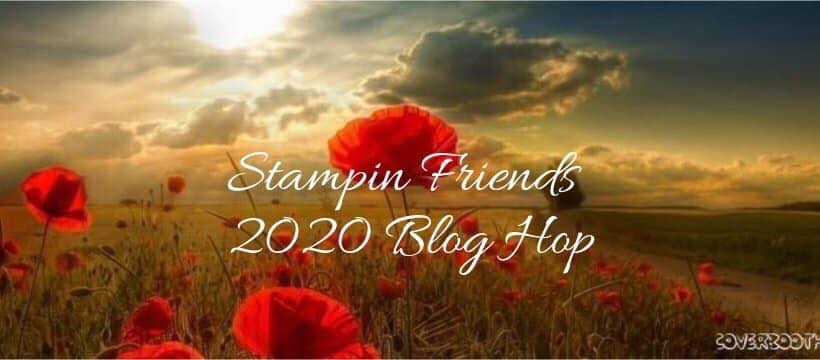 First of all before I start: Please click the dropdown box on the top right to translate to English.
Hallo ihr Lieben,
auch im Monat Juli gibt es einen neuen Stampin' Friends Blog Hop. Dieses Mal ist das Thema total offen und wir zeigen euch alles querbeet, was uns so derzeit gefällt. Bei Jo habt ihr bereits tolle Projekte sehen können. Bei mir geht es sehr sommerlich weiter. Ich habe ein Geburtstagsset zum vierten Geburtstag meiner kleinen Nichte gewerkelt.
Das Geschenkset besteht aus einer personalisierten Geschenktüte und der passenden Karte. Ich hab alles in ihren Lieblingsfarben gehalten und das Designerpapier "Farbfantasie" sowie das Stempelset "Cute Fruit" aus der Anfängerbroschüre dafür verwendet.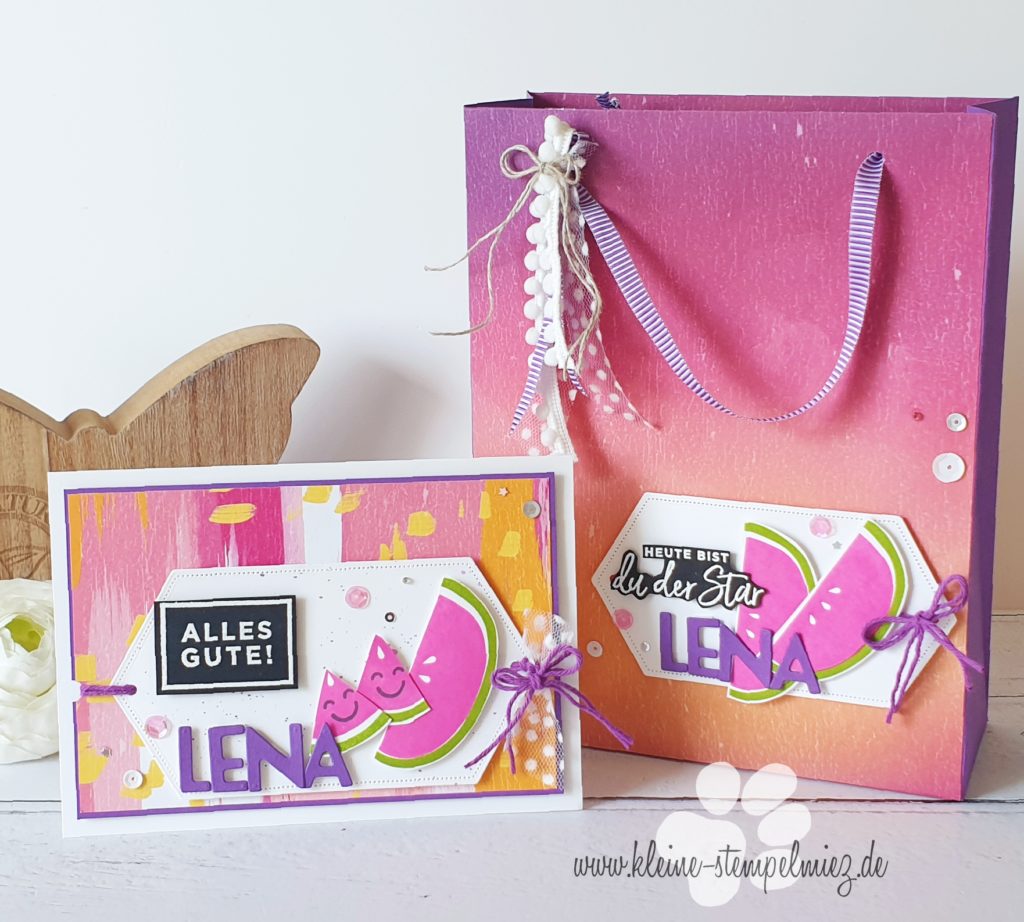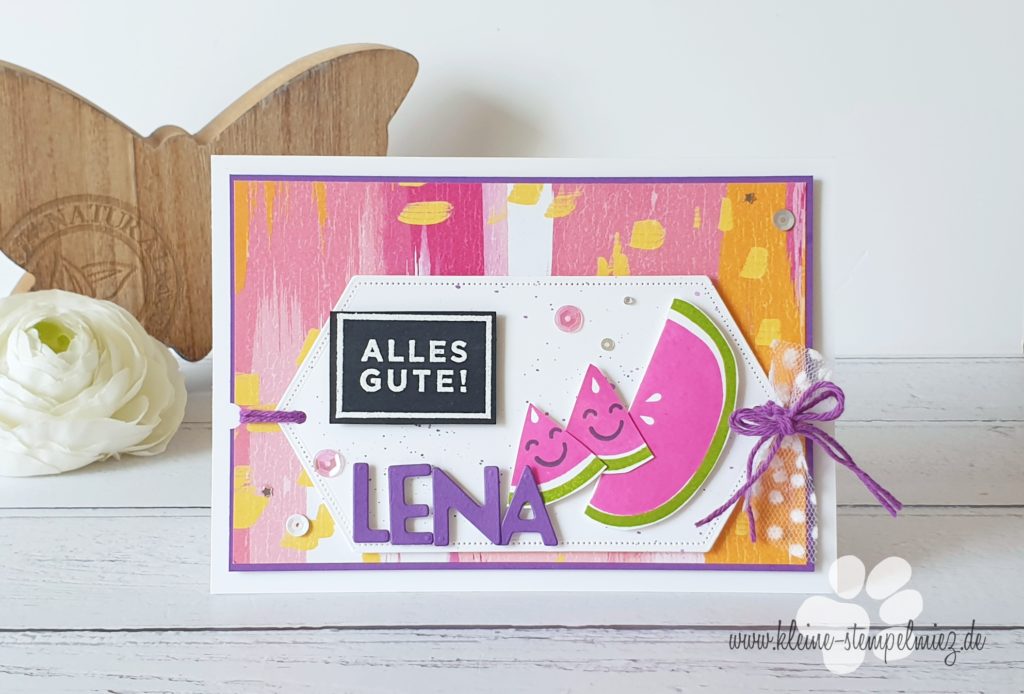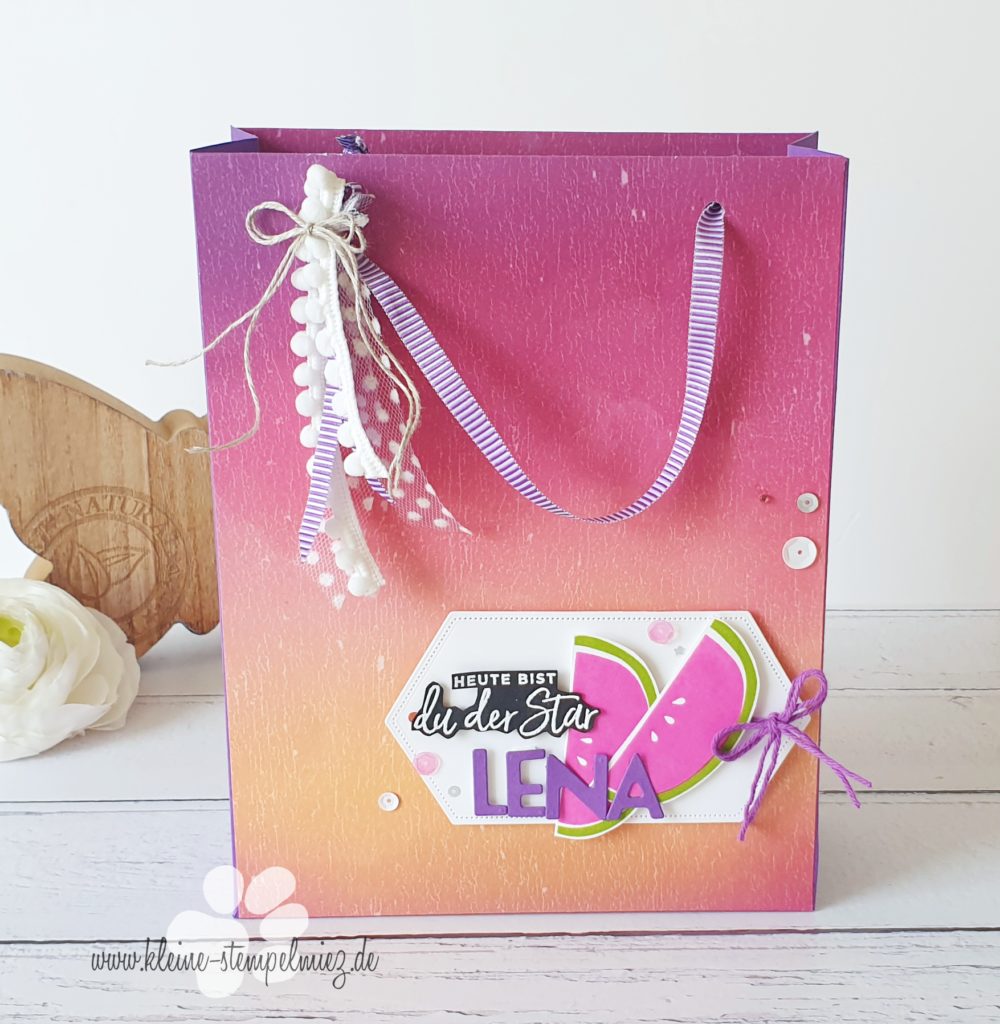 Die Karte besteht aus einer Grundkarte in Flüsterweiß. Darauf habe ich eine Mattung Amethyst und eine Mattung Designerpapier gelegt. Drum herum habe ich Amethyst Kordel und ein Tüllband gewickelt. Oben drauf kam ein raffiniert bestickter Rahmen, den ich mit Sprenkeln aus Amethyst versehen habe. Die Melonen wurden in Apfelgrün und in Magenta gestempelt und per Hand ausgeschnitten. Der Geburtstagsspruch stammt aus dem Set "Schönster Geburtstag" und wurde in weiß auf schwarz embossed. Den Namen habe ich mit Hilfe der Stanzen "Buchstabenmix" ausgestanzt. Dank der neuen 3D Klebepads ist das Ankleben super leicht. Man kann die Pads nämlich direkt mit stanzen.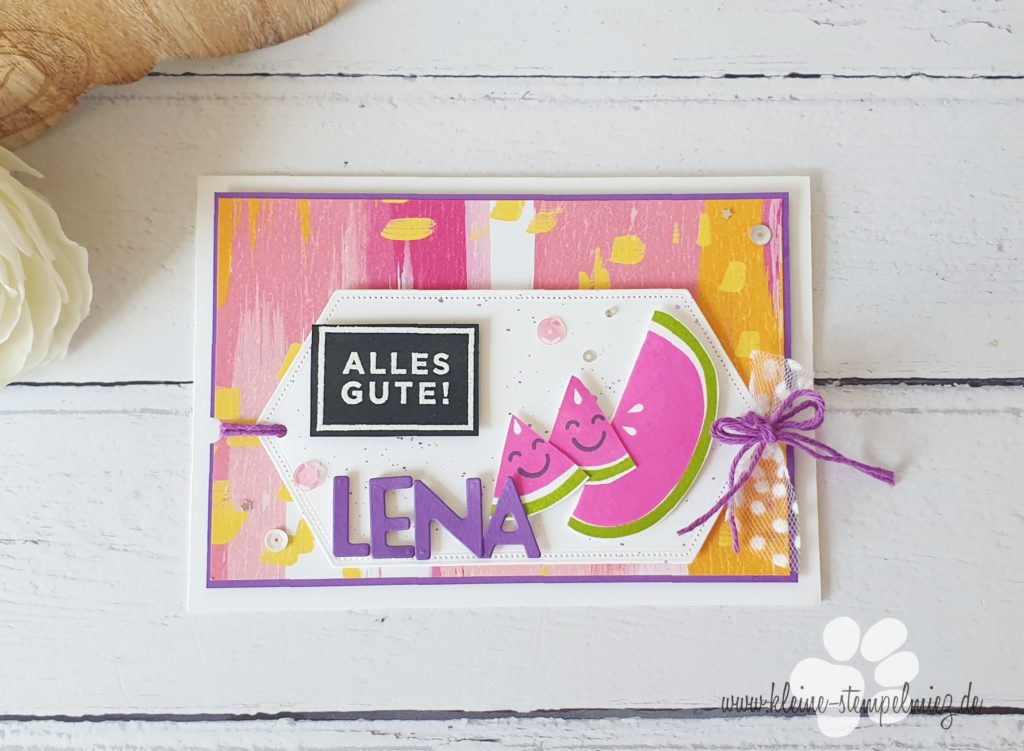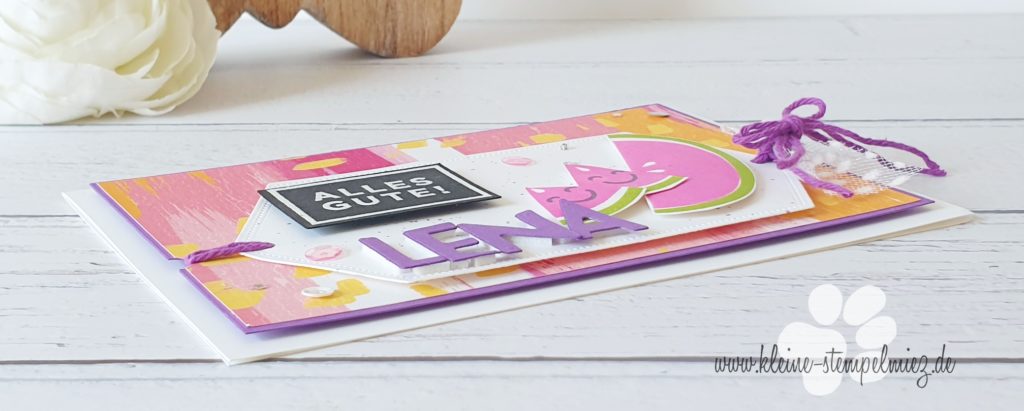 Die Geschenktüte wurde aus Amethyst Cardstock und Designerpapier "Farbfantasie" gewerkelt.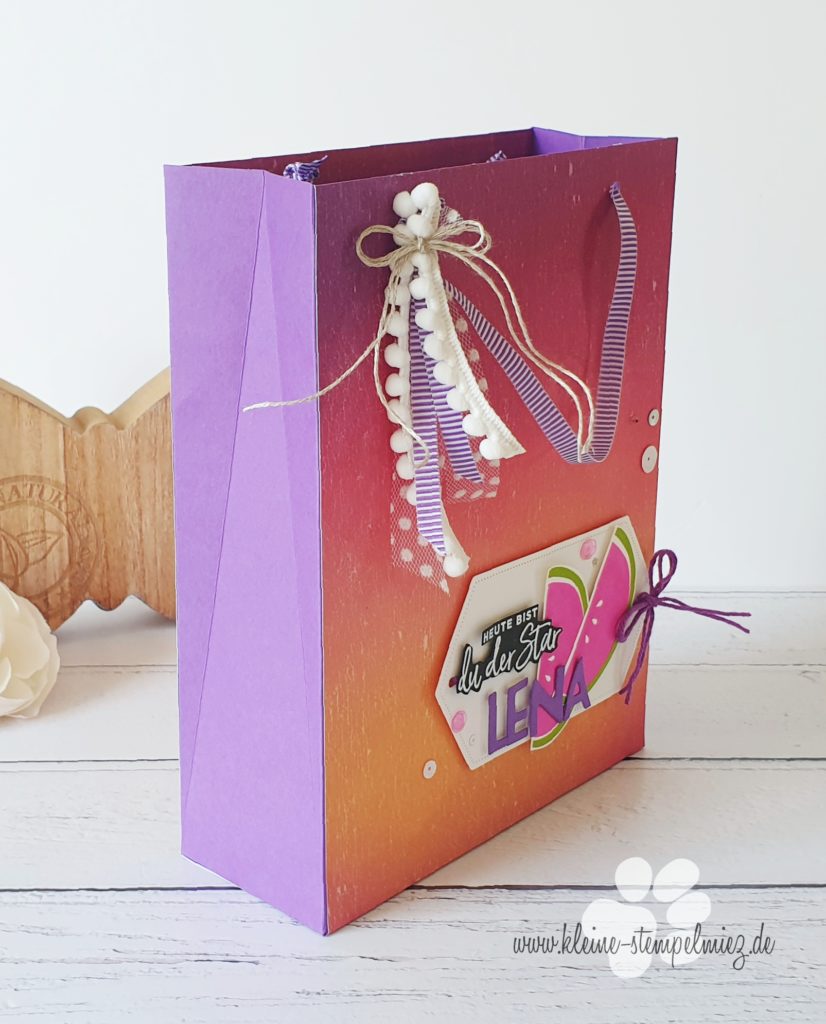 Vorn habe ich einen raffinierten bestickten Rahmen in weiß angebracht. Außerdem kamen wieder zwei Melonen drauf, die ich in den gleichen Farben gestempelt habe wie auf der Karte. Der Geburtstagsgruß stammt aus dem gleichen Stempelset "Schönster Geburtstag" und auch hier habe ich Buchstaben in Amethyst aufgeklebt.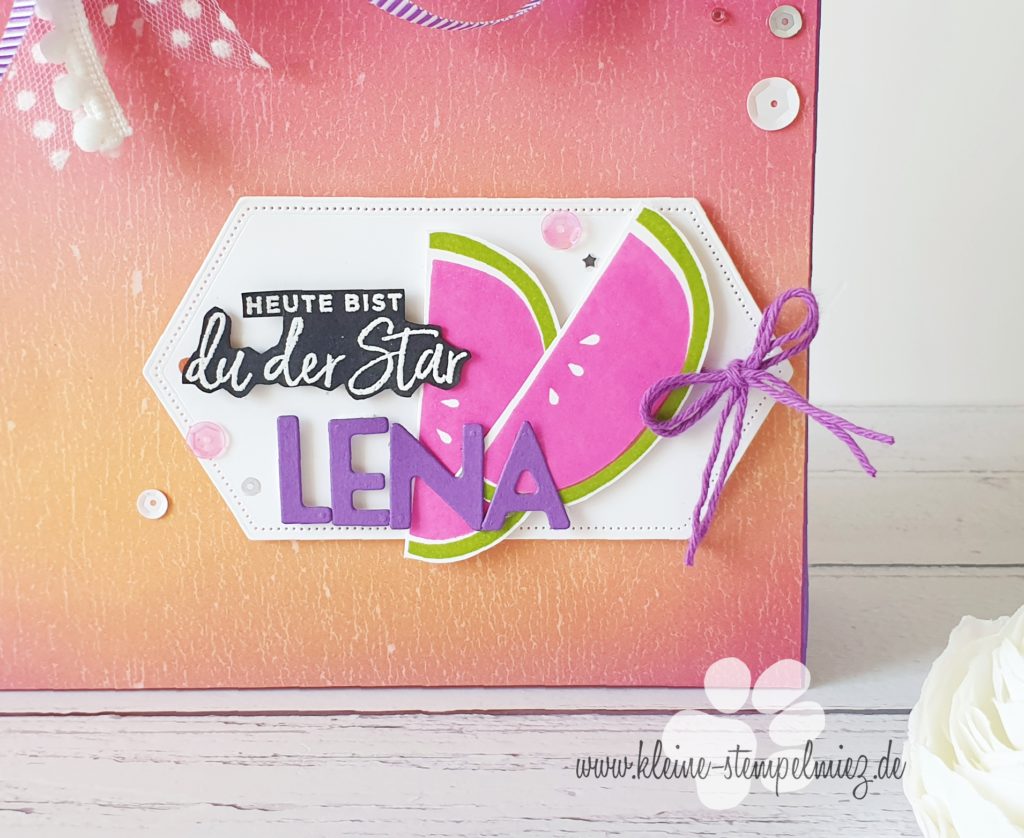 An die Henkel, die ich aus Amethyst Band gebunden habe, kamen ein paar weitere Bände zum Verzieren dran.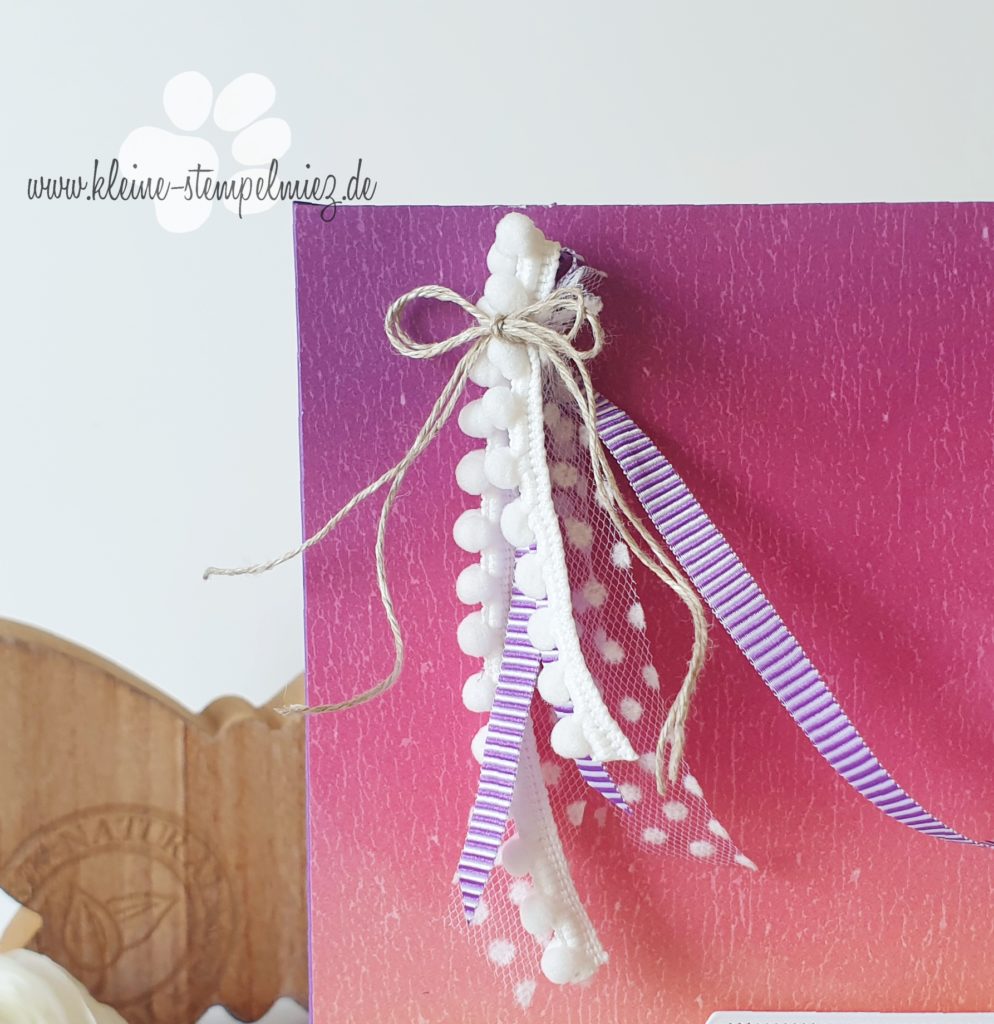 Ich hoffe, euch hat mein sommerliches Geschenkset gefallen. In unserer Blog Hop Runde geht es nun mit Barbara und ihrem tollen Projekt in diesem Monat. Ich wünsch euch viel Spaß beim Weiterhüpfen!
Hier sehr ihr alle Teilnehmer im Überblick:
Katja Ettig – hier seid ihr gerade :-)
Barbara Lash – https://stampingwithbarbara.com/?p=1550&preview=true
Kim Lamos- http://www.pinkzebrapapercreations.com/2020/07/stampin-friends-blog-hop-anything-goes.html
Heidi Collins – https://on-y-go-stamping.weebly.com/home/nothings-better-than-the-stampin-friends-july-blog-hop
Maureen Rauchfuss – https://crazystampinglady.blogspot.com/2020/07/sf-2020-july-anything-goes-blog-hop.html
Steph Jandrow – https://stampinandscrappinwithsteph.weebly.com/home/stampin-friends-2020-july-blog-hop
Barbara Welch – https://creativestampinspot.blogspot.com/2020/07/anything-goes-stampin-friends-blog-hop.html
Tiziana Milano – http://stampinwtiziana.blogspot.com/2020/07/stampin-friends-july-blog-hop-anything.html
Lisa Ann Bernard – https://www.queenbcreations.net/2020/06/stampin-friends-blog-hop-2.html
Eure Katja
Verwendete Stampin' Up! Produkte: